Wavlink WL-WN576G3 AC1200 Setup
AERIAL D4Q is known for its Amazing efficiency and Wi-Fi range. Like all other repeaters, WL-WN576G3 AC1200 repeater eliminates all the Wi-Fi range dead-zone. It comes by checking all tick boxes needed for any Extender with industry range standards. It comes with the latest Amplification technologies and Beamforcing Technolgy. WL-WN576G3 compiles dual-band as well, it works in both 2.4GHz and 5GHz. Dual-band connections help us to get lag-free HD gaming and Online video streaming. It compiles a Gigabit Ethernet port as well, which makes it another step higher than it's competitors. The device comes with a single-mode switcher button and WPS button for easy single button connection. When concluding it ticks all the boxes and a compact perfect device suitable for kids to hardcore internet users. Let's start Wavlink WL-WN576G3 AC1200 Setup-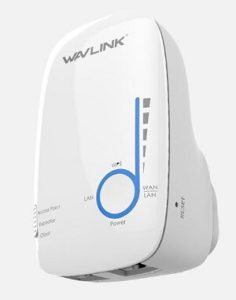 Wavlink WL-WN576G3 AC1200 Setup Via WPS
Wavlink AC-1200 can be setup via WPS and using an online web browser as well. It comes with this WPS built-in. Your router also must support WPS technology to setup via this method. Let's go through the steps to connect your router and AERIAL D4Q via WPS button.
Open your WL-WN576G3 AC1200 from the box and find the WPS button on it.
Position the AERIAL D4Q in the range of your router for wireless connectivity.
Check the Mode switcher on the WL-WN576G3 repeater towards the repeater/extender.
Cross-check the router and Repeater is working properly and Power connected to it.
Locate and press the WPS button on the WN576G3 for about 10 seconds.
Note: Rearrange your external antennas on the repeater for the best results.
Locate and press the WPS button on the router soon after pressing the pressing it on AERIAL D4Q.
Note: If you can't locate the WPS button on the router then it may not support WPS connection so leave this part and proceed Wavlink Extender setup via online WEB-UI.
Locate the WPS LED on the AC1200 AERIAL.
If the WPS LED blinks blue colour, Connection is successful else repeat the above steps or try via online WEB-UI.
After connection, Blinking WPS LED will stay on which means everything working properly.
To receive the full potential of your Wavlink Extender relocate to an area which is the approximate midpoint of your router Wi-Fi range and Wi-Fi dead zone.
Note: You can use any speed test apps for checking speed and range. We recommend the OOKLA speed test.
Enjoy your Enhanced Wi-Fi range in your workplace using WL-WN576G3 Aerial Repeater.
WAVLINK AERIAL D4Q-AC1200 SETUP VIA WEB-UI
Wavlink WL-WN576G3 AC1200 Setup is easy using WPS single button but for a router that doesn't support WPS, WN576G3 supports connection via online web browser as well. Let's go through connections via web browsers.
Power your Wavlink Extender and your router which is allowed by the manufacturer.
AERIAL D4Q-AC1200 must be in the range of your normal router for no problems in network connectivity.
Power ON your AERIAL D4Q and push the mode switcher towards extender/repeater.
Wait until Power LED turns solid green.
Now select any device with a working web browser for connection.
Open Wi-Fi settings in your device.
Please connect to the Wi-Fi with SSID name begins with WAVLINK for proceeding towards the next steps.
No password needed to establish the connection as this is the first time connection.
Now choose and open any authorized web browser to access the Wavlink Extender Setup website for connection.
Now Please enter any of the below two URL to proceed.
a) wifi.wavlink.com
b) 192.168.10.1
You can use your default password for the connection. ("admin" – This is the default password)
Click Wizard option in your Extender Website after moves toward Repeater/Extender
Please select the correct router you need to connect.
Wait a few minutes to finish your setup.
To use it from any connected device, Please connect your extended SSID of the Wavlink WL-WN576G3 AC1200 Extender and use the same password as a router.
Your Wi-Fi range is extended now. You can use from the extended range.
Note: For improved performance, relocate your Wi-Fi Extender to the midpoint of your router and Wi-Fi dead zone.
WL-WN576G3 AC1200 AERIAL D4Q SETUP AS ACCESS POINT/AP via Wifi.wavlink.com
AC1200 AERIAL can be used in various modes as we went through such as Extender, Router, and Access Point. To connect your it as an Access Point, you need to connect your quality Ethernet cable to your LAN port in WL-WN576G3 Extender to create a Network hotspot. You can setup Wavlink WL-WN576G3 AC1200 as Access Point from any Desktop/Laptop/Android/ios devices.
Power your Wavlink WN576G3 AC1200 to proceed into the next steps.
Please rearrange your external antennas for better coverage.
Turn the Mode button to "Access Point" on the Wavelink Aerial Extender.
Locate the LAN port on the repeater which can be seen in the side panel or back panel of it.
Insert any quality ethernet cable for connection establishment as Access Point from router to repeater
Connect to the repeater's default network name showing in your wifi list on your phone/laptop/desktop.
Now open any Web browser such as Google Chrome or Mozilla Firefox from the same device and enter either one of the URLs below.
Note: a) 192.168.10.1
b) wifi.wavlink.com
Enter into the next page via authentication.
For authentication, you can use the default password as "admin" for wavlink extender's
Choose Access Point/AP from the Wizard menu.
Creat New SSID, security type, and password for your WL-WN576G3 AC1200 Access point.
After a few minutes, your connection establishment is successful.
You can check whether the connection is successful if the Percentage reaches a hundred.
AERIAL D4Q – AC1200 Dual-band Wireless Firmware Update
Every Device has hardware as well as software. For the proper running of any system, we need to update our software frequently. To update software/firmware of WN576G3 AC1200 AERIAL we need to go through the following steps. You need a frequent internet connection to update. The firmware update is not recommended for devices already running smoothly. There will be performance and security enhancement after most updates. We can go through steps now.
We need to check whether there is an update or not.
For checking and update, we need any device with an active internet connection.
Open any web browser such as Google Chrome and Mozilla Firefox.
Now enter the Repeater Update Checking page.
Enter either URL "wifi.wavlink.com" or "192.168.10.1" in the web browser URL field.
Now access the update in the "settings" page.
Click the "Check Online" button.
If there is any update, Then follow the following steps.
Enter the download button and download it into your device.
Please Extract the file using any unzipper and Locate the Extracted files.
Press Upload and your firmware updated successfully.
How to Reset WN576G3 AC1200 AERIAL D4Q?
Please pick any object with a thin and sharp end like paper clip
There is a small gap on the AC1200 AERIAL with mark " Factory Reset ".
Insert the object and press the Factory reset button for about seven seconds.
Now release the object from the Reset gap.
Please wait a few seconds to restart your ac1200 repeater.
Restarted d4q repeater is now in Factory Reset settings.
Note: After restarting, Please wait for almost one minute to finish the extended reset.
There are two ways to reset your WN576G3 AC1200. Using a Factory reset gap or via an online web browser. We can now go through steps to reset via an Online web browser.
Open the Web browser from any connected device.
Now enter the repeater management/Reset page.
Click "Reset" from the "Backup/Restore" webpage.
Please wait a few seconds.
After a few seconds, WN576G3 will now reset to factory default settings. You can use your Extender in Factory default settings.
Click here to download Wavlink WL-WN576G3 AC1200 Pdf Manual.