Wavlink Wifi Extender Setup
This device supports 2.4GHz 300Mbps & 5GHz 867Mbps model, suitable for all kind of router, you will never worry about compatibility. You can easily connect your computers, laptops, cell phones, smart tvs, roku, alexa and stream online games and 4K videos. This wavlink wifi extender setup is not equipped as repeater mode, but also can aslo work as a excellent wireless Access point. You can Setup Wavlink range extender via WPS function can Setup it via browser. You can connect your chromecast or firestick or smart tv with the help of Built-in one Ethernet LAN.
Wavlink WiFi Extender Setup in Repeater Mode
Firstly, place your Wavlink Wifi Extender Setup close to your router, like within the range of 5-10 feet from the router or they can be within the same room.
Now you will observe the light on the Extender will be red blinking.
On your cell phone or laptop turn on the WiFi and connect your device to the Wavlink default extender network name i.e. Wavlink-N or Wavlink-AC.
Open a browser like (Google, Firefox, Safari, Etc) on your wireless devices.
In the URL or Address bar you need to type wifi.wavlink.com or 192.168.10.1 and hit ENTER.
NOTE:- In case 192.168.10.1 isn't working try resetting the extender and rebooting your router afterwards.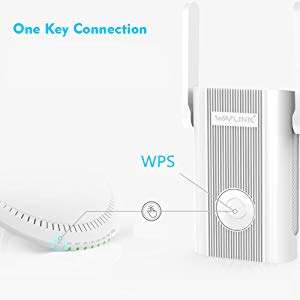 For first login into your Wavlink wifi extender setup type username as admin( all lower case) and hit login.
System Setup will require you to create password for your

Wavlink Wifi extender setup

web management login, then hit save.
Choose the WiFi repeater mode among the operation mode available on the screen.
Next step requires you to select the main WiFi network that you want to extend. It will show you the list of all the available networks in your area.
Type the password for the selected wireless SSID that ou want to extend.
You can Either keep the same SSID as your router or you can customize new network name for extended network according to your need.
It takes minimum 60 seconds for the Wavlink Aerial to get connected to your router.
You can place the Aerial X range extender at the place where you need Internet Connectivity. In case you have Blue LED on the Extender that means the signal is Excellent.
Setup Wavlink Aerial as Access Point
Plug in your Wavlink Aerial close to your router.
Connect your mobile or laptop to the Wavlink networks default name i.e. Wavlink-N or Wavlink-AC.
Open a browser and in the address bar type wifi.wavlink.com or 192.168.10.1.
Enter admin for first login into your Wavlink extender.
The system setup will ask you to select a time zone and create a system management password.
Choose LAN Bridge or Access Point and create a New SSID and Password, hit Apply.
Connect a Ethernet cable between your router and Wavlink extender. Check Manual.