Victony Wa1200 Wifi Extender Setup
Victony is a pioneer when it comes to delivering value for money service. Its 1200 MBPS speed makes gaming, online HD video streaming, downloading and uploading a smooth experience. Victony Wa1200 wifi Extender is equipped with a WPS, (router, Repeater and AP mode), LAN/WAN port, ON/OFF switch and a reset button. Victony setup can be done either through WPS or by web browser setup via 192.168.10.1. Its powerful antennas make it easy for you to stay connected even when your signals are weak. The LED indicator on it helps you to find the best suitable spot to use this extender. Two Ethernet port on the extender lets you connect any of your computer or gaming consoles and the WAN port allows to use Victony as Router.
How to Setup Victony wa1200 Wifi Extender Via WPS
Firstly plugin your Victony Wifi extender close to your router.
It is recommended to place it in the same room or within 5-10 Feet, for faster connection.
As soon as you plug in the extender wait until the power LED turns solid green for victony wa1200 setup.
Now press and hold WPS on your victony extender for around 2 seconds.
Repeat the same process on your router, by pressing the WPS on your router.
Now you will find a green blinking light on your victony wifi extender and a blinking light on your configured/working router.
It hardly takes 10-15 seconds for both your victony and router to recognise each other and establish the connection.
Once a connection is successful the WPS light on your Wifi Extender will turn solid green.
You can now unplug your extender and place it just at the location where you find dead spots.
NOTE:- In case the WPS doesn't work try resetting the Extender. Also for seamless Wifi Connection place this extender away from big electrical appliances.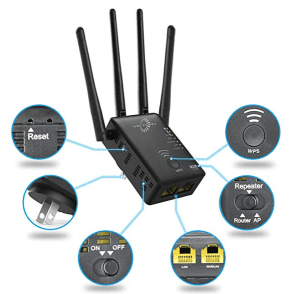 Victony setup via 192.168.10.1 on browser
For this Setup, you just need to plug your extender into one of the wall outlet, no compulsion to plug it near the router.
Now wait until the extender boots up properly and you have a solid green light on the power.
On your wireless devices like laptop, WiFi-enabled desktop, Mac or phone etc open WiFi.
Now scroll through your WiFi list and connect to open/unsecured Victony Network.
Once connected open browser on the same device and in the address bar type 192.168.10.1 and hit enter.
It will open your Victony WiFi Extender Setup page for you.
NOTE:- In case 192.168.10.1 doesn't work then try resetting the extender, or change the browser or use a different device.
On your Victony browser setup page follow the on-screen instructions.
When asked to select Network you would like to extend, then select the main wireless network that you would like to extend.
After this, it will then ask you to punch in your wireless Internet password.
WiFi light will turn solid green on the extender after extender is successfully connected with the router.
Now you can unplug it and place it at the place where you need Internet connectivity.
As you unplug your extender it takes around 60 seconds for extender to boot up.
For best coverage place the extender in the direct line of sight of the router away from big appliances like microwave.
Victony WiFi extender manual comes with the extender.